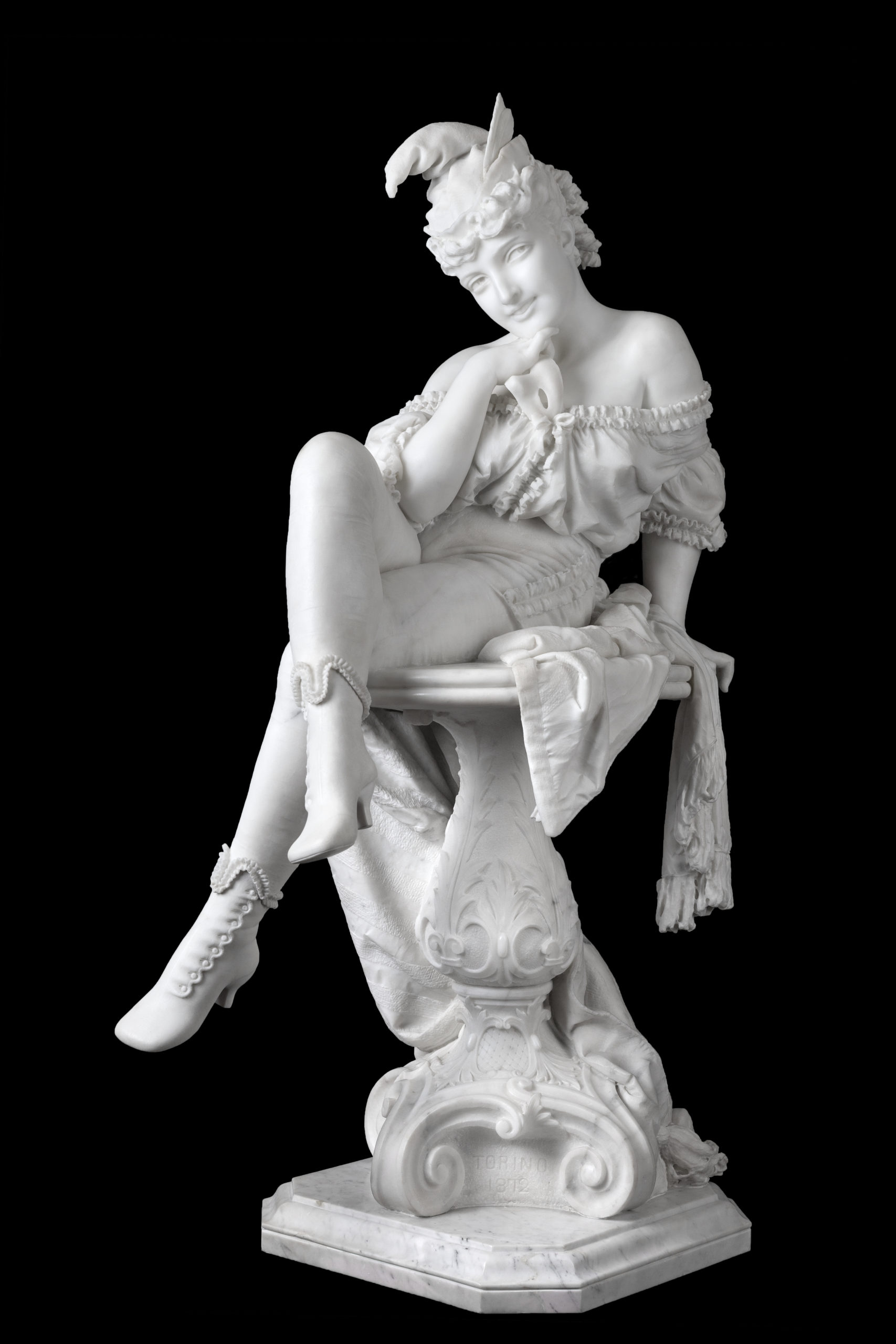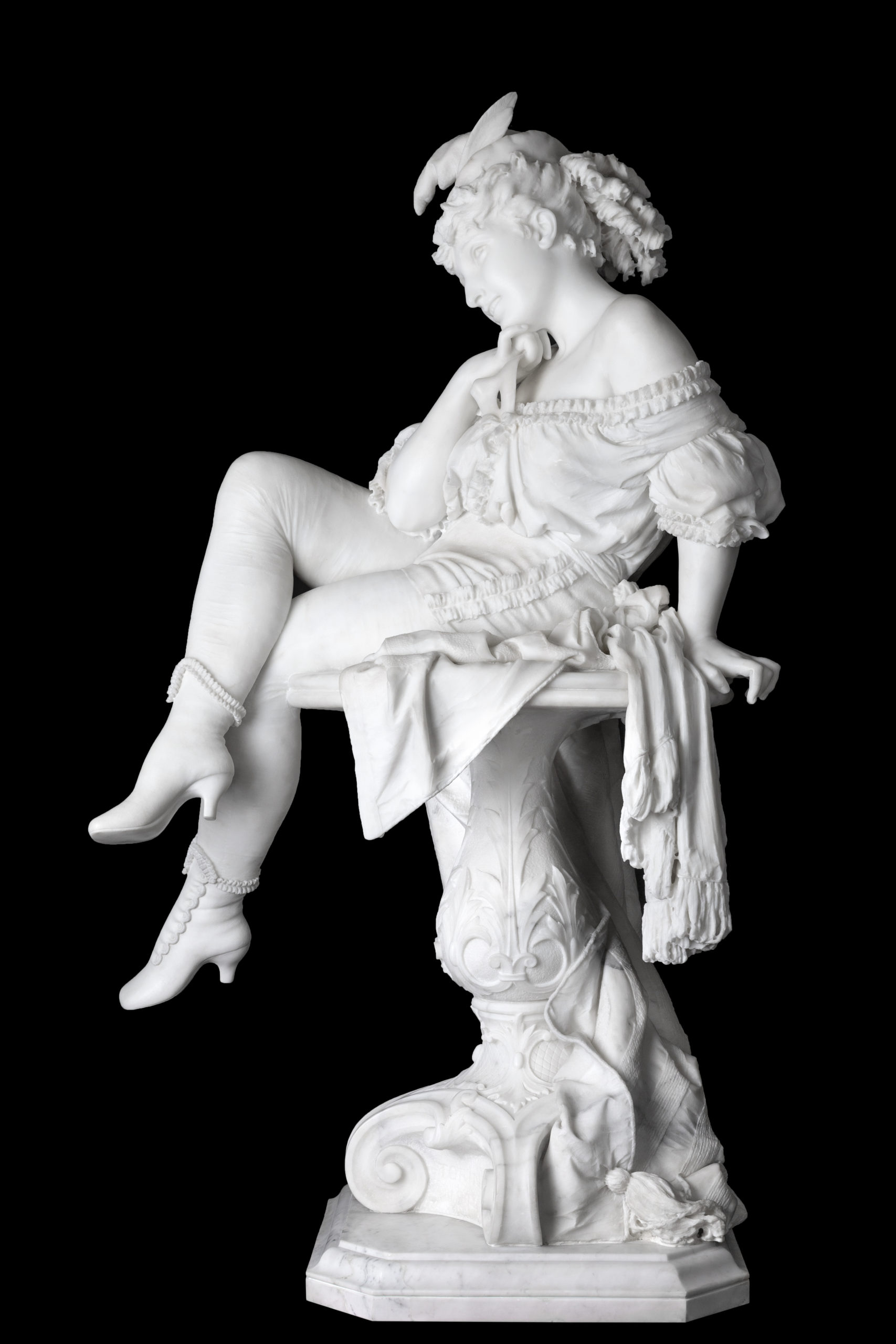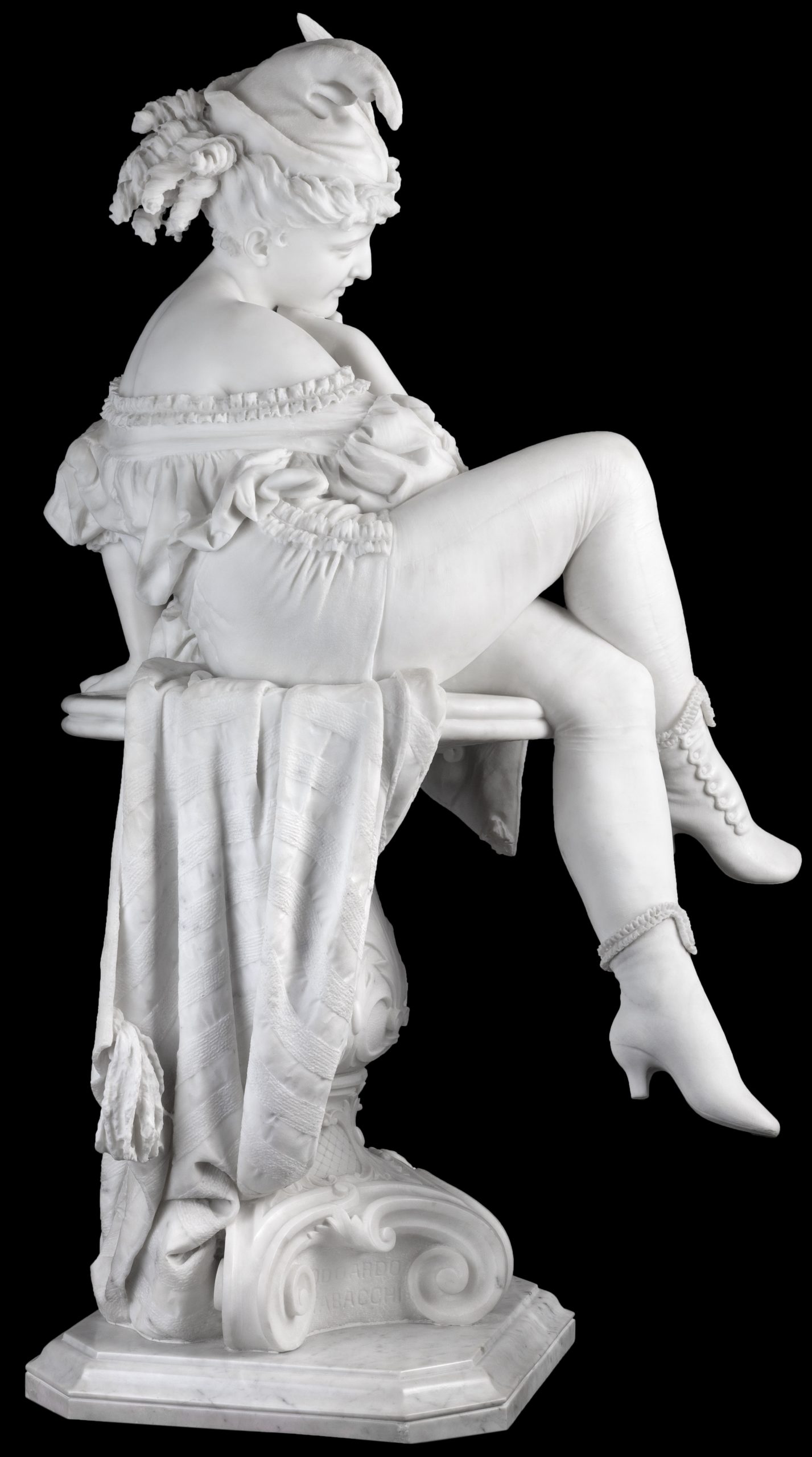 La Mascherina or The Mask by Odoardo Tabacchi
This marble sculpture by Odoardo Tabacchi depicts a Venetian woman. 
This marble sculpture by Odoardo Tabacchi depicts a Venetian woman dressed in a typical period costume and holding a Venetian mask in her right hand. She sits elegantly on a round table on a sheet falling to the ground.
This sculpture is now the property of a private Belgian collector.
The Sculpture is signed « ODOARDO TABACCHI" which stands for the Italian sculptor Odoardo Tabacchi (1831 – 1905).
He trained at the Academy of Brena in Milan. He was a pupil of Abbondio Sangiorgio, Benedetto Cacciatori and Pietro Magni until 1851, when he won the competition for the Roman Triennial Boarding School and perfected his skills under the famous sculptor Tenerani. Afterwards, in Florence he attended the "Caffè Michelangelo" and in Naples he met Domenico Morelli.
 Returning to Milan in 1860 he worked in Magni's workshop making the four statues of the monument to Leonardo, and making emblems and insignia for Milanese workshops until he won the prize for the statue of « Storia (History) » in the monument to Cavour by Tantardini. He was also active in the Frabbrica del Duomo in Milan from 1865 to 1867.
Professor at the Academia Albertina in Turin since 1897, the year of Vela's departure, he has been carrying out the monuments to « Paleocopa », « Cassinis », « Salvatore Pes di Villamarina », « Garibaldi », « Bottero » for the city and has supplied the sketch of the « Winged Genius » for the monument to the Censisio tunnel. Among the many celebratory monuments he carried out are « Brignone » in Pinerolo, etc.
The present sculpture, dated 1872 is undoubtedly one of Tabacchi's masterpieces. The sculpture was presented in 1884 in Torino at the "L'esposizione Italiana". Before being exhibited in Torino, the sculpture captured the imagination of the editors of "L'Illustrazione Italiana" who published an engraving of the marble by Bonamore on the 4th of February 1877.