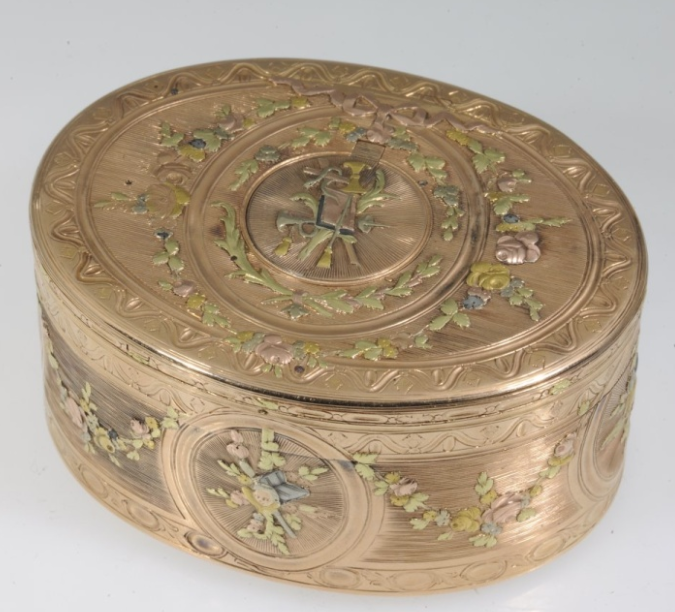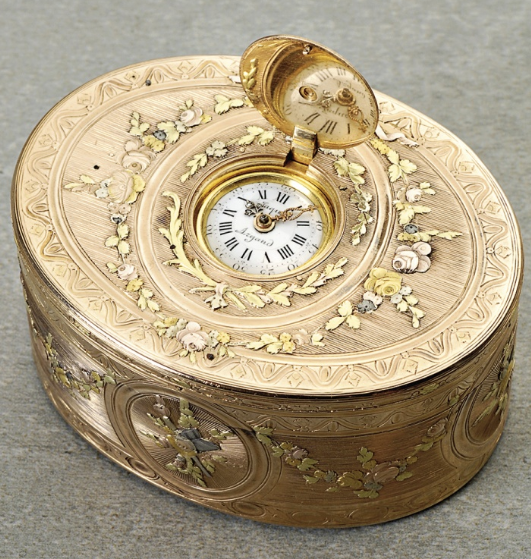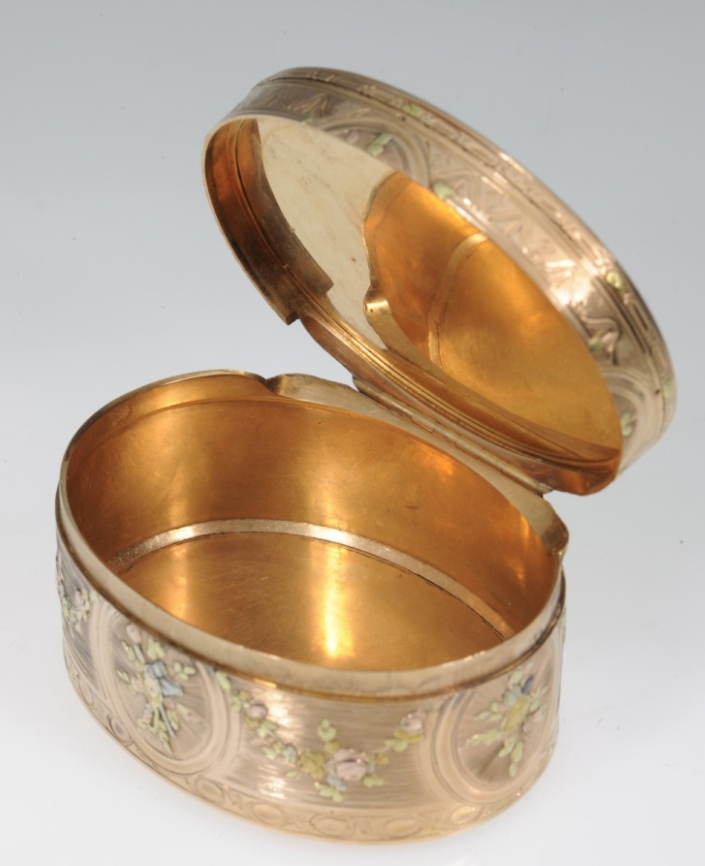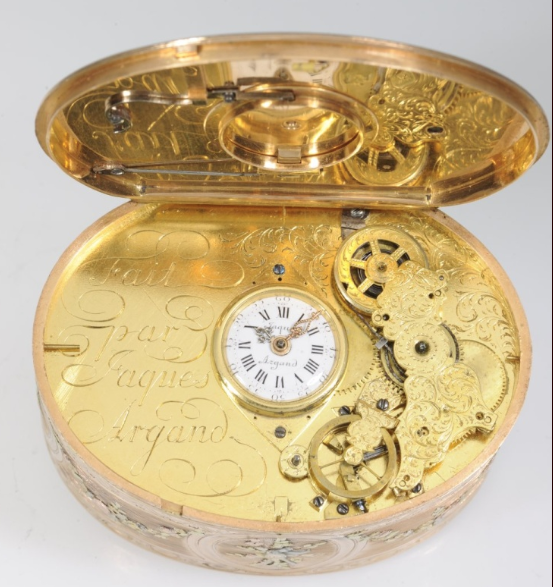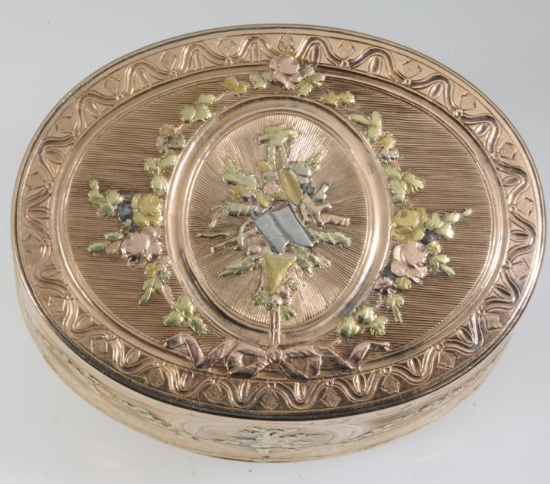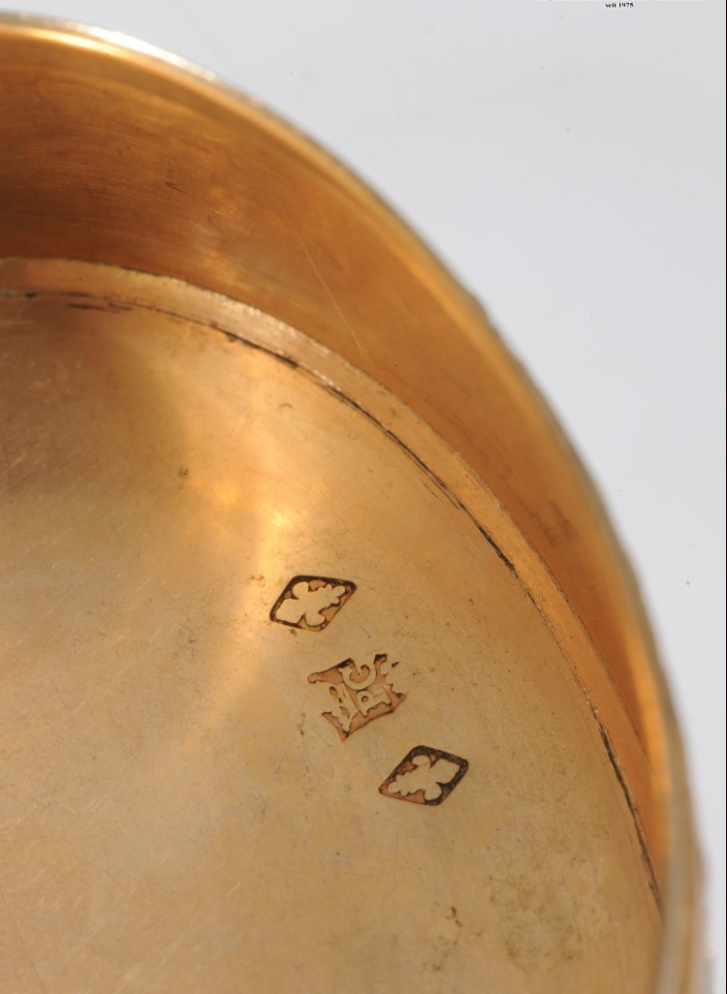 Four-color gold box with watch by
 Jaques Argand / Maker's punch mark « PG » crowned  (Philippe Gervais)
A four-colour gold box of museum quality with concealed watch under the spring-loaded lid « Fait par Jaques Argand » (made by Jaques Argand).
Case: gold, maker's punch mark « PG » crowned (Philippe Gervais), two later Parisian punch marks for gold 1847 onwards. Oval box, engraved and chased ornaments in four colour gold.
Dial : white enamel. Roman numbers. Hands in gold.
Movement : bridge movement, chain/fusee, verge escapement, three-arm brass balance.
The box is allover decorated with engine-turned pattern of fine horizontal lines and geometric engraving near the edges. Lid and base each have a central oval cartouche with chased motifs: book, cross, serpent, chalice and palm leaves surrounded by lavish flower garlands. The sides are similarly ornamented with four oval medallions containing flowers, fruit, sheets of music and other objects. Pushing a small button on the case opens a small jumping lid in the centre and reveals the dial. The lid itself opens too and exposes the exquisitely decorated movement with the small dial in the centre.
Baillie's « Watchmakers & Clockmakers of the World » lists Jacques Argand as an important maker in Geneva in the mid 18th century. He was born in 1733 and died in 1782.
The case is stamped with a crowned « PG » mark and was created in the workshop of renowned jeweller Philippe Gervais (1734-1796), who was a native of Hanau; he moved to Geneva in 1761. Two years after being made a citizen, he became a master and presented a diamond-set gold and enamel snuff box as his masterpiece. On February 26, 1764 he married a Swiss woman by the name of Gabrielle Rey; the couple had three children. Gervais died on August 19, 1796 in Geneva.
Philippe Gervais is famous for his many objects of vertu that have integrated watches, such as snuff boxes or gold and enamel chatelaines. A small bottle with the mark « PG » was part of the illustrious Lord Sandberg Collection and is described and illustrated in: « The Sandberg Watch Collection », by Terence Camerer-Cuss, pp. 382-383.
An amazing singingbird automaton scent flask with timepiece by Jaquet-Droz Leschot and Frisard, also stamped PG has been sold at Sotheby's New York on the 11th of June 2015 for 2.530.000,00 $.
Dimensions : 79 x 60 x 38 mm.
Weight : 206g.
Period : Swiss ca. 1760.