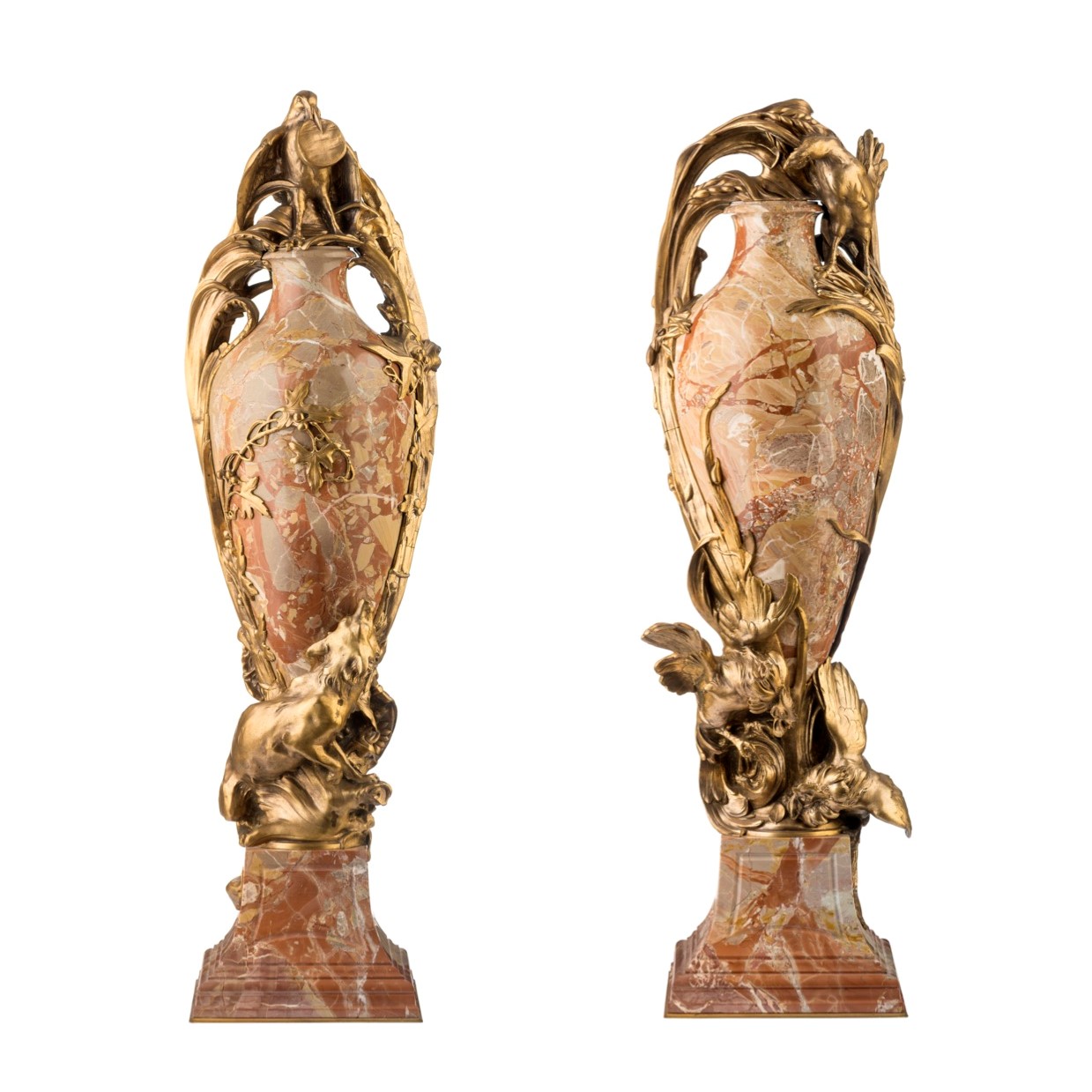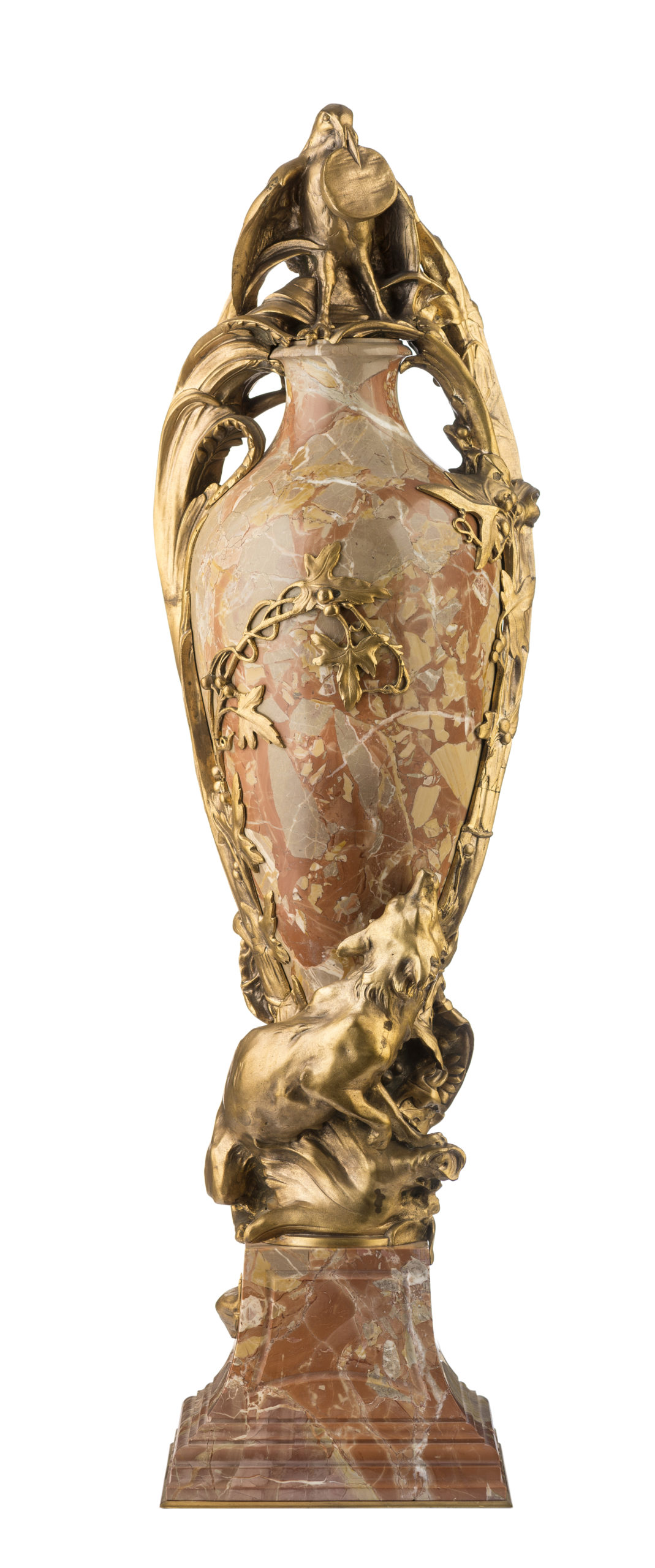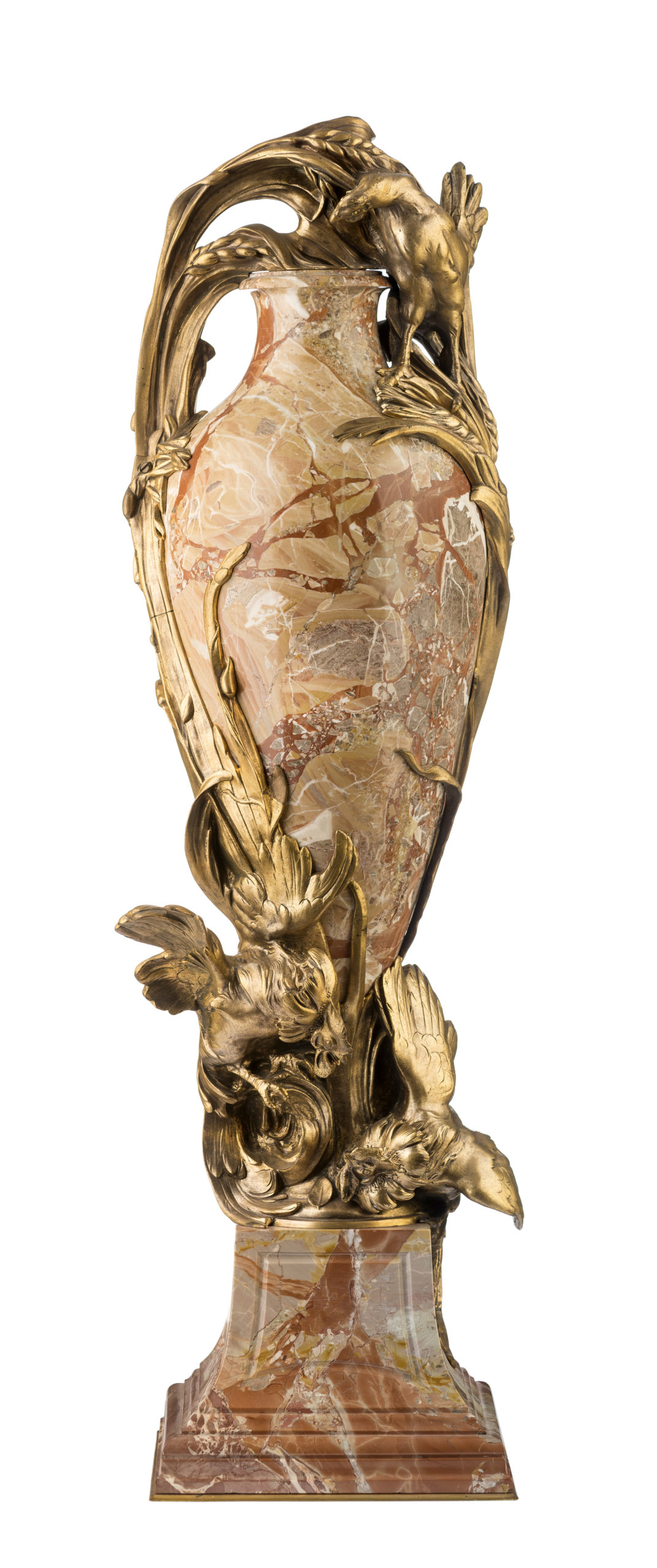 Pair of vases Fables of Jean de la Fontaine  by Egide Rombeaux
These vases by Egide Rombaux are without reservation among the highlights of his oeuvre and at the same time one of the icons of Belgian Art Nouveau.
These vases by Egide Rombaux are without reservation among the highlights of his oeuvre and at the same time one of the icons of Belgian Art Nouveau. Everything about this works of art is infused with spirit and an ode to what those aiming for the purest refinement can only dream of.
All the abilities upon which the oeuvre of Egide Rombaux is based also bring this vases to a beguiling degree of life. It is clear that considerations of style were wholly secondary to the artist.
Each vase represents a well-known fable by the famous 17th century French poet Jean de La Fontaine. The first vase represents the fable of the raven and the fox. It's the story of a crow holding a cheese in his mouth, the fox flattering the crow to answer him and letting the piece of cheese escape. The second vase represents the fable of the two roosters. It's about two roosters fighting over a chicken. The winner of the battle brags about it and shouts his victory until, for his greatest misfortune, he attracts the attention of a vulture.
These vase are now the property of a private collector.
The sculpture is signed « E. Rombaux » standing for the Belgian artist Egide Rombaux (Schaarbeek 1865 – Uccle 1942). Son of the sculptor Felix Rombaux, about whom little is known, provided his eldest son with the necessary basic training and sent him as an apprentice to Guillaume De Groot (1839-1922) and then to the studio of Albert Desenfans (1845- 1938). Evening classes with Charles Van der Stappen were also on the menu, and that continued until 1887. Rombaux in other words received a thorough professional training and the energetic Jef Lambeaux (1852-1908) was able to put it to good use.
For two years, Egide Rombaux was able to work for him to help make the Brabo fountain in Antwerp. This connection with the "Belgian Rodin" would turn the young practitioner into a fully-fledged artist.
Winning the Godecharle prize (1887) made it possible for Egide Rombaux to live in Italy for three years, mainly in Florence. There he made his famous sculpture The Scarecrow, which he however later destroyed, because he was unsatisfied with it. Luckily reduced versions were preserved of that sculpture that had been intended to be the crest of a fountain; it clearly shows Lambeaux's influence.
After his return, via Paris, he married and success came his way: this time he won the Prix de Rome and was again able to go to Italy, where he installed himself until 1894. There he carved his Mount Venus which brought him success at the Salon of Paris. His artistic career then shifted to full speed.
By 1896 he had his own workshop in Schaarbeek, where he was able to make his best-known sculptures. His monument Henri Vieuxtemps (1820- 1881) was already inaugurated in Verviers the following year. Between 1900 and 1903 he began carving what is most likely his best known sculpture, Daughters of Satan, from a block of marble weighing 4000 kg. It became the absolute attraction at the Antwerp Salon of 1904, and was promptly purchased by the Royal Museums of Fine Arts of Belgium. Smaller versions can now be found in museums such as those of Ghent, Budapest and Barcelona.
As an active participant in the artistic life of those days in Antwerp in 1905 Rombaux became a member of the dynamic art circle "Kunst van Heden" (Art of Today), where he encountered colleagues such as Frans Huygelen (1878- 1940), Jules Lagae (1862-1931), Victor Rousseau (1865-1954), Adolphe Wansart (1873-1954) and Oscar Jespers (1887- 1970). During that period he had a house built in Uccle that would stay his definitive residence and his place of work: it was to stimulate both the amplitude and the multifaceted nature of his production.
Thanks to an exceptional technique he was able to achieve the most refined nuances. In portraits, religious or allegorical work, his figures appear to emerge from the marble as if they were emerging from a mist. After the turn of the century, Rombaux began to sculpt regularly in ivory and his predilection for the beauty of the naked figure and supple movement came to an even more eloquent expression.
During the First World War the sculptor's work was increasingly being described with the term symbolist. He took refuge in London where he exhibited First Morning at the Tate Gallery and in Venice. Following the calamities of war, Egide Rombaux taught for a decade (1921-1932) both in Antwerp and in Brussels. Several monuments of his making became part of the capital's aspect: Paul Janson (1928), Ernest Solvay (1933) and the bronze Cardinal Mercier, which was only installed in 1954 even if he had conceived it more than ten years previously. The statues of the courageous Gabriel Petit (1893-1916) and of the famous English nurse Edith Cavell (1923) also bear the Rombaux signature.
87,5 x 26 x 22 cm.
82 x 25 x 22 cm.