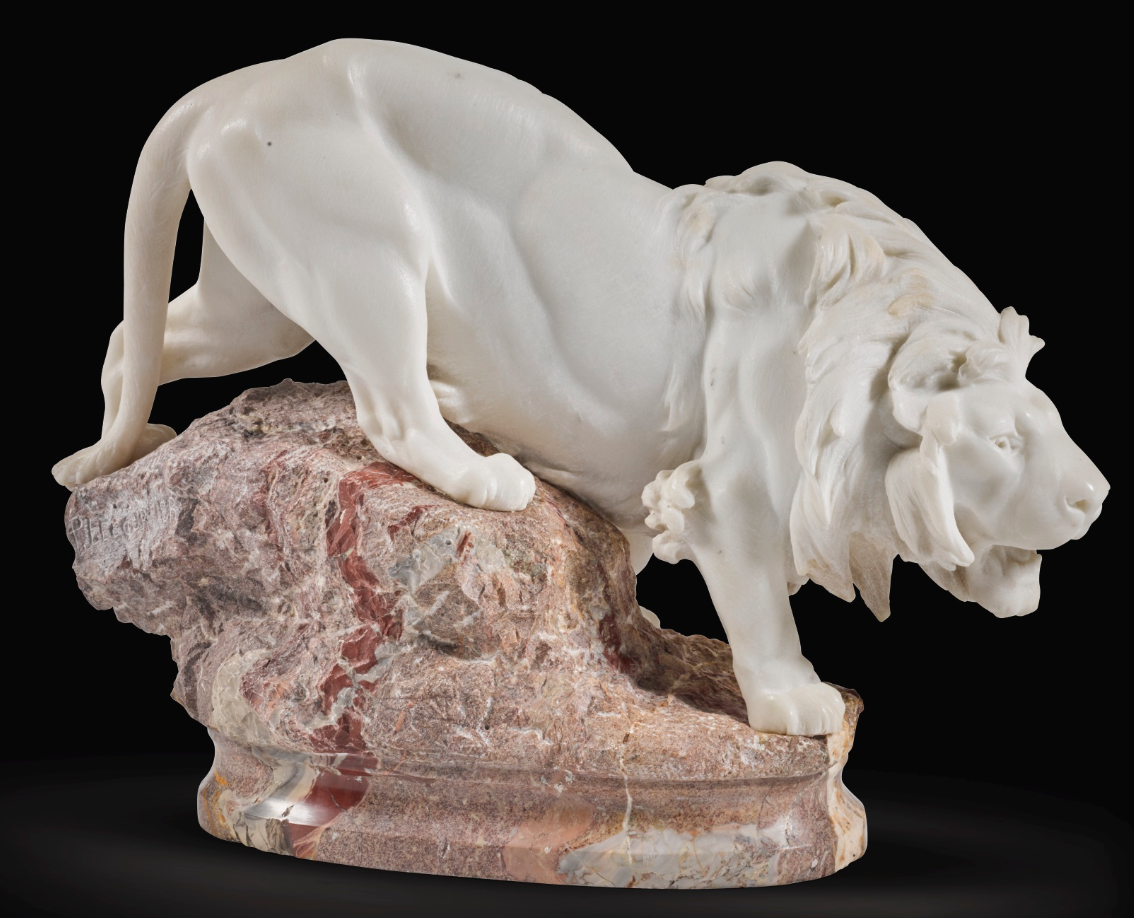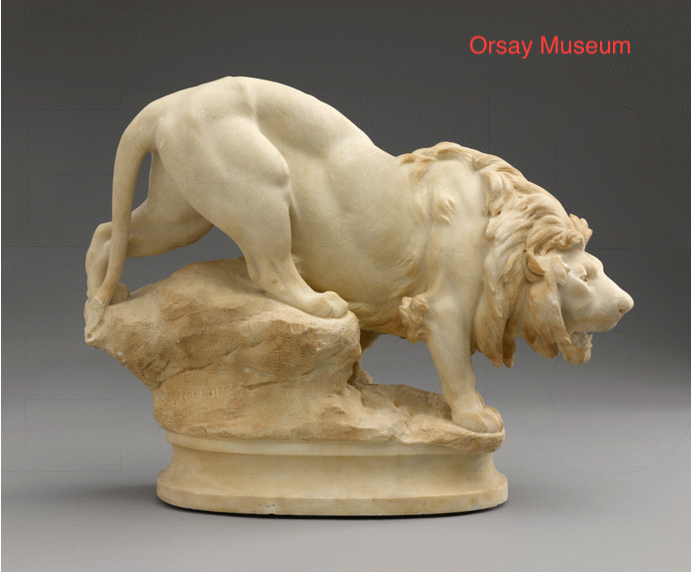 Lion by Prosper Lecourtier
The Sculpture
The sculpture represents a lion roaring on a rock. The lion is in white marble and the rock in red veined marble. The artist willingly left the rock rough while polishing the bottom of the rock to create a contrast.
The Artist
 The sculpture is signed « P. LECOURTIER » standing for Prosper Lecourtier (1851 – 1924) the french sculptor born in Grémilly and who died in Paris.
                        Lecourtier is a sculptor who made his classes in Paris under the direction of Frémiet and Coutant. We know very little about the life of this artist however he left a lot of works behind him. He can be remembered as a great animal sculptor.
                        From 1875 he participated every year in the Salon and regularly presented bronze animals such as for example: Cheval arabe (1879), Chien et ses petits, chien bull-terrier (1882), Chienne (1883), Marchand de volaille (1884), Chien d'arrêt (1886), Chiens bassets (1889), Cheval de trait (1901) …. Lionne (1907) … Lion (1907) … Lionne au repos (1911), etc.
                        We can say that it is extremely rare to find a marble sculpture of this artist. The same model but entirely in white marble is kept at the Musée d'Orsay in Paris. Another lion in bronze is kept at the Guéret Museum of Art and Archeology
Dimensions
Height : 42 cm
Length : 54 cm
Period
1907 – French
Material
Lion : White Carrara marble
Rock : Red veined marble
Literature
– BENEZIT, E. Dictionnaire des peintres, sculpteurs, dessinateurs et graveurs.Paris: Librairie Gründ, 1961. Tome 5. p. 469.
– KJELLBERG, P. Les Bronzes du XIXe Siècle, Dictionnaire des sculpteurs. Paris : Les éditions de l'amateur, 1989. p. 419-421.